APP Atlanta Open Pickleball Event
APP Atlanta Open Professional Pickleball Event is Coming to Griffin!
Looking for some fun after Labor Day? Don't miss the Association of Pickleball Professionals (APP) event happening right here in Spalding County!
The 2022 APP Atlanta Open Golden Ticket Qualifier is happening Wednesday, September 7th through Sunday, September 11th at the Spalding County Pickleball Complex located in Wyomia Tyus Park. This event will feature both amateur and professional players from around the country, battling it out for part of the $65,000 prize.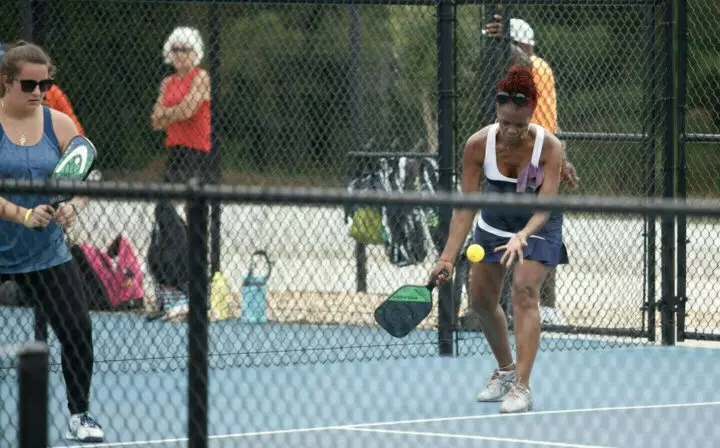 What is Pickleball?
If this seems like a completely made-up sport, we get it. It doesn't exactly sound like much of an athletic event. But pickleball is quite possibly the fastest-growing sport in America — increasing by over 20% in active players in 2020!
Pickleball is still fairly new. It was created by three dads in 1965 who were looking for a fun way to keep their kids busy. When they didn't have everything they needed for badminton, they improvised. And pickleball was born.
So what is pickleball? Well, in short, it's a paddle sport mixing elements of tennis, badminton, and ping pong. It can be played in singles or doubles. And though it sounds odd, it's a blast! The rules are simple, making it perfect for all ages — from kids to seniors.
But as you'll see in the upcoming tournament, it can get quick, strenuous, and highly competitive when played at a high level.
Pickleball in Griffin
This is not Griffin's first time hosting a professional pickleball event. The Spalding County Pickleball Complex is one of the best in the country, and the perfect place to experience the game.
The complex offers 18 pickleball courts, 12 of which have lights for night-time play. There are also recently renovated restrooms, a concession stand, and plenty of shady spots for relaxing while you watch.
Whether you want to spectate or try a lesson, you can find fun pickleball events year-round at Wyomia Tyus Park. In fact, after the tournament, the APP is hosting a series of clinics based on skill levels.
If you're brand new but interested in learning how to play, check out the Spalding County Pickleball Association's website for a list of upcoming events — including beginner's classes and open play times.
Enjoy Something New in Griffin!
We hope you and your family can make it out for the 2022 APP Atlanta Open Golden Ticket Qualifier tournament this September. It's the perfect first introduction to pickleball, surrounded by the beauty of Wyomia Tyus Park. If you're already a pickleball fan, come on out and enjoy the intense competition.
Pack a picnic, grab a snack from the concession stand, or check out a local restaurant as you enjoy some of the best pickleball players in the country. You may discover a new favorite sport, or just enjoy your day outside of the big city.
We hope to see you there!
Learn more about the APP here.
Follow the Spalding County Pickleball Association on Facebook here for tournament updates and other pickleball events.