Doc Holliday was from Griffin
Doc Holliday Self Guided Driving Tour
Doc Holliday, born John Henry Holliday, is a legendary character in American Western history—and one of Griffin, Georgia's most interesting citizens.
Doc Holliday's Birthplace & Early Years
John Henry Holliday was born in Griffin, Georgia on August 14, 1851, to Major Henry Burroughs and Alice Jane McKey Holliday. Although the family moved to the South Georgia town of Valdosta during the Civil War, they first left their mark in Griffin. 
If you're a fan of American history, be sure to not miss these historical markers during your visit to Spalding County!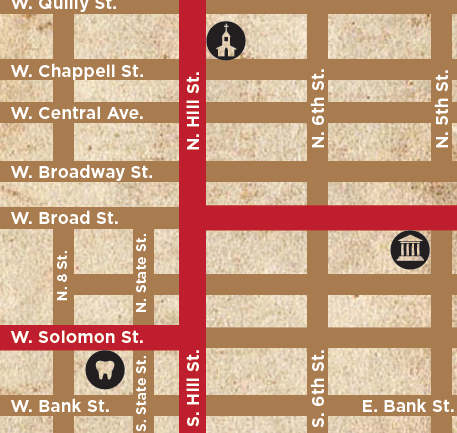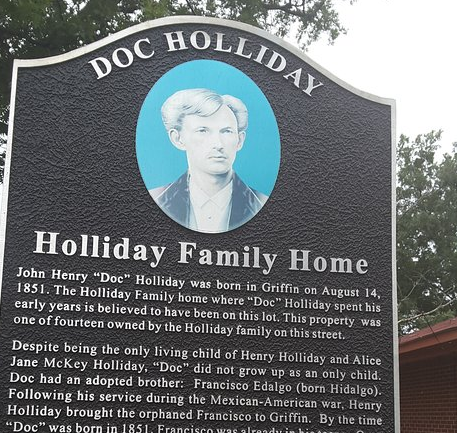 Holliday Family Home Site
While driving through Griffin, watch for the Holliday Family Home Marker at the intersection of West Tinsley Street and North 9th Street. The Hollidays actually owned fourteen lots on Tinsley Street, but the marker is located nearest to what we believe was the family home site.
John Henry Holliday shared his early family home with his mother's younger sisters after the death of their father, his Grandfather William Land McKey. The Holliday family had also taken in a Mexican orphan boy named Francisco Hidalgo whom Major Holliday had befriended during his service in the Mexican American War. 
Looking for the Holliday Tinsley Street Home using a GPS? Try address 233 West Tinsley St, Griffin, GA.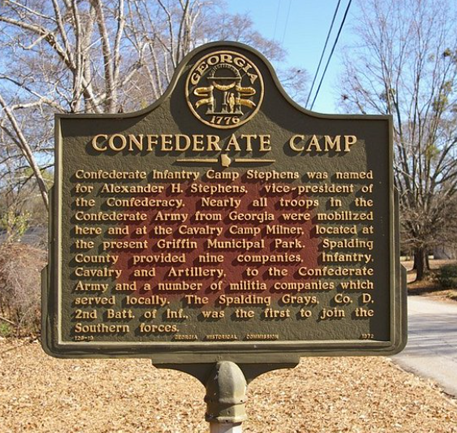 John Henry Holliday's father, Major Henry Burroughs Holliday, was a prominent figure and landowner in Griffin and early Spalding County. One of his many contributions to the community was Camp Stephens, created on land donated by Major Holliday to become a training ground for local Confederate troops.
This is one of more than forty properties owned and sold by Major Holliday in Spalding County. Visit the link above for more info. Or find it using your GPS with this address: 325 E Mcintosh Rd, Griffin, GA.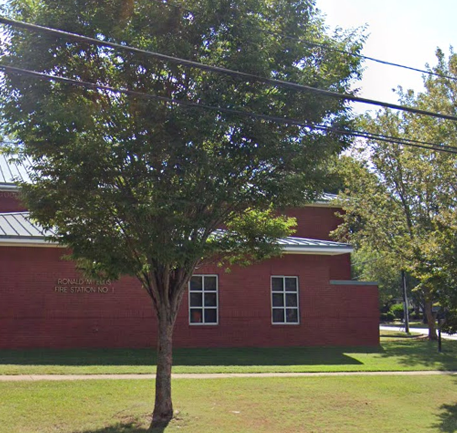 Presbyterian Church Site (Fire Station)
John Henry Holliday was baptized at this location before his first birthday in 1852. His mother, Alice Jane McKey Holliday, though likely raised in the Baptist faith, was baptized at the First Presbyterian Church of Griffin after her marriage to Major Holliday. 
Although John Henry was said to be very close to his mother, it's more likely because he was her only living child than because she died young. There is no record or family story of what caused her death, just an obituary in the Valdosta papers stating that it had been "long and difficult" illness. She could have died of any of a number of illnesses. While it's dramatic to blame the same illness that took her son, that cannot be claimed in a historical writing such as this. And the Presbyterian Church would not have liked to learn that after moving to Valdosta she had changed her Church affiliation to the Methodists, as she did not believe in the Presbyterian's doctrine of predetermination, according to her obit written by the local Methodist minister in Valdosta.
To visit this historical site and previous home of the First Methodist Church of Griffin, search for 314 N Hill St, Griffin, GA on your GPS.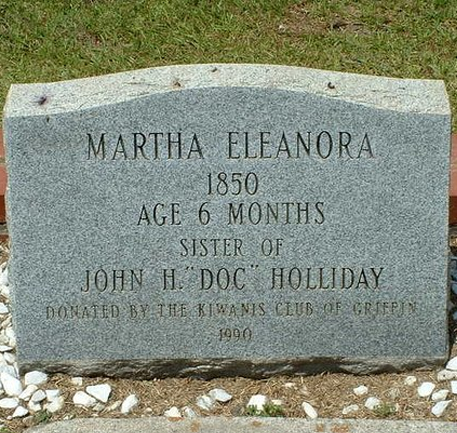 Martha Eleanora Holliday's grave site
Use this text from my biography, The World of Doc Holliday: History & Historic Images:
John Henry Holliday's only sibling was a sister, Martha Eleanora, born eighteen months before his own birth. Sadly, the little girl didn't live to her first birthday, passing away on June 12, 1850. The cause of her death is lost to history, but her parents made sure to memorialize her short life with a granite gravestone inscribed: In Memory of Martha Eleanora, Daughter of H.B. and A.J. Holliday who died June 12th 1850 aged 6 Months 9 days.
The Historical Marker for Martha Eleanora's grave is located near the northeast corner of Stonewall Cemetery, 800 Memorial Drive, Griffin, GA.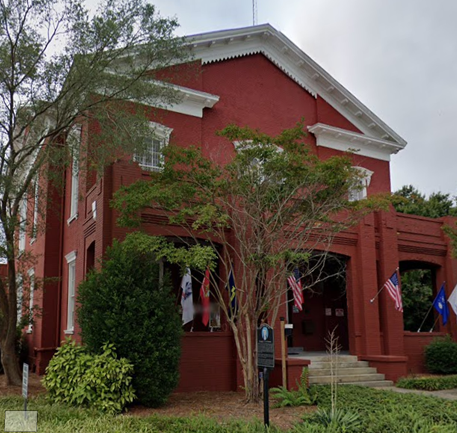 Old Spalding County Courthouse
Both John Henry and his father, Major Henry Holliday, had business dealings at the Old Spalding County Courthouse, including recording the sale of the family's land before moving to Valdosta. John Henry also recorded the sale of his own property here, a business building inherited from his McKey grandfather and the likely location of his Griffin dental practice, before heading West in 1873.
The Courthouse building was completed in 1860, before being converted to a county jail in 1914. You can find the Old County Courthouse at the intersection of East Broad Street and South 5th Street. If you're looking for it on your GPS, use the address 232 E Broad St, Griffin, GA.
Doc Holliday's western adventures began in Dallas, Texas, where he went into dental practice with another former Georgian, joined the congregation of the local Methodist Church and the  Temperance League to fight against public drunkenness, and seemed destined for a prosperous career as a respectable Dallas City dentist. But he also became a regular at the local gambling houses, a habit that would end his dental partnership and ruin his reputation as a professional man. When a New Year's Day saloon altercation led to a shooting, Doc was arrested and charged with attempted murder. But though the jury called it self-defense, Doc seemed to be done with Dallas, and headed toward the rougher towns of West Texas and beyond. His erratic behavior in his first Texas years may be evidence that he had finally confronted the disease that would eventually take his life: consumption, now known as tuberculosis. But though he had a fatal diagnosis, he still had a lot of living to do on his way to becoming a Wild West legend. 
Wyatt Earp & The O.K. Corral Gunfight
According to some stories, Doc Holliday met part-time lawman Wyatt Earp in a Fort Griffin, Texas saloon when Earp needed information to track down some stolen cattle. Earp didn't find the cattle thief but he earned a new friend, as Doc decided to follow along from Texas to Dodge City, Kansas, and eventually to Tombstone, Arizona, where they would both make their fame in a street fight near the O.K. Corral. That most famous of all Western gunfights left three "cowboys" dead and brought an aftermath with more violence, the maiming of Earp's older brother Virgil and the murder of his younger brother Morgan, and a famous "Vendetta Ride" as Doc and Wyatt and their posse went after the murderers.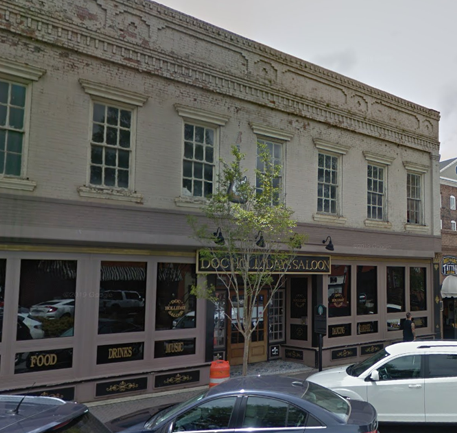 In 1870, John Henry Holliday enrolled in the Pennsylvania College of Dental Surgery, one of only two dental colleges in the country at the time. He completed his degree in two years, then returned to Georgia to begin practice, first filling in for Atlanta dentist Dr. Arthur C. Ford, President of the Georgia Dental Association, while the older man was away attending a convention, then, according to local stories, opening his own practice in his hometown of Griffin.
This marker notes the Solomon Street business building, called the "Iron Front" for its fancy ironwork façade, that was part of John Henry Holliday's inheritance from his Grandfather McKey. According to local stories, young Dr. Holliday practiced dentistry for a short time on the second floor of this building before selling his property and moving west. What made him leave his property and his practice so suddenly? Although legend says that he was diagnosed with the lung disease called consumption and told he had only a few months to live if he didn't move to a dryer climate, that story actually originated in a 1929 novel about the life of Wyatt Earp—it's fiction, not fact. But according to newspapers of the time and the recollections of lawman Bat Masterson, who knew Doc Holliday personally and wrote about his life, it was a shooting on the Withlacoochee River near Valdosta that inspired his exodus west and started his infamous career.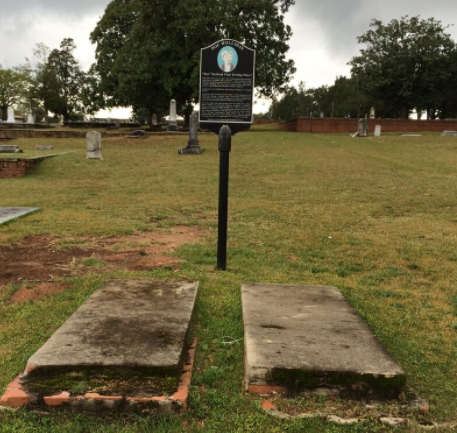 Doc Holliday's Final Resting Place... maybe?
Doc Holliday and Wyatt Earp may have made their legend together in Arizona, but they went their separate ways soon after, with Wyatt and his posse going into hiding in the Colorado mountains and Doc having his own adventures in Denver and the mining boomtowns of Leadville and Silverton, Colorado, and Butte, Montana and becoming a national newspaper celebrity. 
On November 8, 1887, John Henry "Doc"' Holliday finally succumbed to his illness, passing away in the picturesque mountain town of Glenwood Springs, Colorado, and being laid to rest in a hillside cemetery by a gathering of new friends and admirers. His final effects, along with condolences, were sent to his family back home in Georgia.
And, if local Griffin stories are correct, Doc himself came back, as well, when his father Major Henry Holliday had his remains removed from Colorado and returned home to be reburied in Griffin's Oak Hill Cemetery.
If you're a fan of Tombstone, American history, or just a great story, explore the legend of Doc Holliday right here in Griffin, Georgia.
Take a tour of the places John Henry "Doc" Holliday knew as a young man...