A Dozen of Griffin+Spalding's Favorite Restaurants
Discover Griffin's Most-Recommended Culinary Gems
Griffin, Georgia offers a delightful array of culinary experiences, from Southern comfort food to international cuisine. We've narrowed down the choices to 12 of the best restaurants in Griffin, Georgia, loved by locals and visitors alike.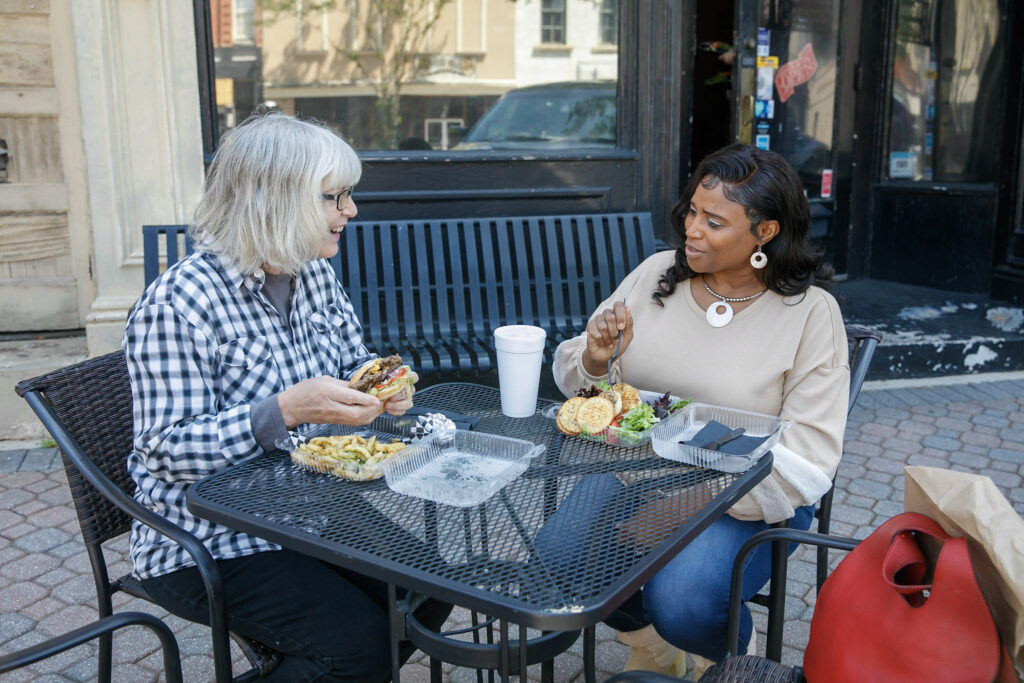 Refuel after your pickleball match, plan a fun outing, or settle in for a cozy date night at one of these local gems!
Black Smoke Coffee
If caffeine gets you moving, start your day at Black Smoke Coffee in Orchard Hill. The cafe's baristas use locally-roasted coffee beans to craft drip coffees, espressos, and fun blends including local favorite Macchiato Madness. Not a coffee lover? Try a frosted infusion, smoothies, or lemonades. Pair your drink with a rotating menu of pastries and treats.
Griffith's Drive-in
https://griffithsdriveinga.com/welcome/
Travel back in time to a Griffin classic. Griffith's Drive-In offers a retro atmosphere and a menu filled with Southern classics. Order up hamburgers, hot dogs, fried chicken, or steak sandwiches but make sure you save room to enjoy a slice of Mrs. Norma's homemade pound cake, coconut pie, or buttermilk pie.
The Emerald Chandelier
https://www.theemeraldchandelier.com/
With all the Southern charm, y'all, The Emerald Chandelier is the go-to spot for upscale afternoon tea, serviced with savory and sweet treats. Get dressed up and make a reservation to experience traditional English tea with a Southern spin.
Catarina's Mexican Restaurant
https://www.catarinasmexican.com/
Serving up authentic Mexican cuisine, Catarina's Mexican Restaurant has become a local favorite for more than one reason. Sizzling fajitas, homemade guacamole, and savory enchiladas will transport you to a world of vibrant flavors. Every Tuesday is Taco Tuesday, with live music on the covered patio.
Saki Japanese Sushi & Steakhouse
https://www.facebook.com/p/Saki-Japanese-Steakhouse-100063738091501/
Saki Sushi & Steakhouse offers a selection of expertly prepared sushi rolls and Hibachi-style dishes. Master chefs will entertain and delight you with their skills, making this a meal to remember. Saki is located right downtown on the corner of West Broad and South 8th, and you'll find easy parking right across the street.
The Bank Street Cafe
https://www.facebook.com/BankStreetCafeGriffin/
Located in a historic bank building, The Bank Street Cafe offers a fun atmosphere and a menu filled with fresh, local ingredients. With a focus on seasonal flavors, every dish is a culinary masterpiece.
Slices Pizzeria
https://www.slicespizzeriagriffin.com/
A classic downtown pizza joint with big ole' wedges of hand-tossed, New York–style pizza: you can't go wrong at Slices Pizzeria. Start with their famous Nom Noms or rotating soup of the day, then dig into a full range of pizza toppings and combinations, or a hot sub or salad. Enjoy your meal on the patio – it's great for people-watching over lunch or dinner.
J. Henry's Restaurant
J. Henry's is a steakhouse and more, with enough variety to please everyone in your party. Appetizer favorites include the In-House Smoked Salmon and the Artichoke Spinach Dip. From there, delve into a soup and salad, sandwich, or go straight to the entrees, with enticing meat, seafood, and pasta options and a la carte sides.
Gritz Cafe
https://www.facebook.com/GritzFamily2
At Gritz Cafe, Southern comfort food takes center stage. Open seven days a week for breakfast and lunch, the friendly staff posts their meat and three-style daily specials on Facebook each morning. Show up before Gritz closes at 3, and be sure to leave room for dessert – we recommend the daily cobbler!
McGhin's Southern Pit BBQ
For a true taste of the South, McGhin's Southern Pit offers a variety of BBQ dishes that are slow-cooked to perfection. Tender pulled pork, juicy ribs, and smoky brisket are served alongside classic sides like mac and cheese and baked beans. Top your meal off with a serving of piggy pudding!
Fishtales Seafood Restaurant
https://www.facebook.com/fishtalesseafoodrestaurant/
Specializing in seafood from the Gulf, Fishtales offers oysters, shrimp, and fish in a fun, casual atmosphere. Whether you choose a dinner curated by the chef or build your own combo, each meal is made to order. Fishtales also offers daily specials and both lunch and dinner service. And for dessert? Key lime pie tops the list, of course!
Angelo's Mediterranean Restaurant
https://www.facebook.com/angelosgriffingeorgia
Satisfy your craving for spaghetti and meatballs here! Their menu features traditional pasta dishes and oven baked specialities that make you feel at home. Planning to feed a large group? Check out Angelo's carry out menu.
Mill Towne Gourmet
https://www.facebook.com/milltownegourmet/
Rounding out our list, Mill Towne offers a cozy atmosphere and a menu filled with elevated classics. Favorites include fresh quiche, beautiful salads, and flavor bursting sandwiches – and incredible baked desserts!
Whether you're a local or just passing through, these culinary gems in Griffin are sure to delight your senses and satisfy your cravings. For even more recommendations, check out InGriffin's Restaurants page. Happy dining!