Griffin+Spalding, Georgia has so many interesting treasures. A fun one is the area's claim to fame as the birthplace of one of the Wild West's most iconic figures, John Henry "Doc" Holliday. And we celebrate it in earnest each year at our Doc Holliday Festival. The town gathers for a celebration that honors this legend's life and legacy.
Doc's eventful life trails across the country, carrying a trunk full of reputation. He is remembered for the infamous Gunfight at the O.K Corral in Tombstone, Arizona. Although the dryer climate of the West is where he had his claim to fame, the thick humidity of Griffin, Georgia holds ties to Doc's childhood which makes the city a fitting place to celebrate the life of a man whose story captures the attention of so many generations.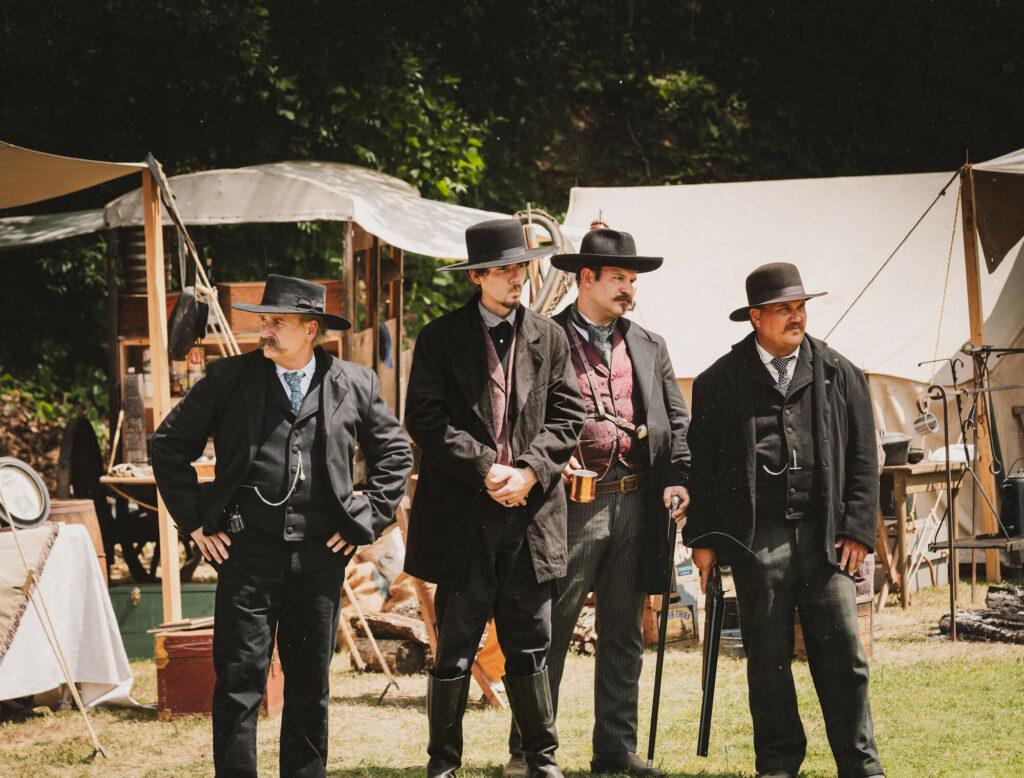 A Bit About Doc Holliday
Before diving into the festival's festivities, who and why are we gathering to celebrate this man?
Born in Griffin, Georgia in 1851, Doc Holliday was born into an aristocratic southern family and received an education from the Valdosta Institute in Valdosta, Georgia. Not only was he intelligent in math and science, but he also learned Greek, Latin, and French. As a young boy, Holliday's uncle – John Stiles Holliday, MD – gifted him an 1851 Colt revolver which ignited Holliday's passion for shooting and might have been the catalyst for his Western reputation. As the years went on, Holliday learned how to count cards from a young Mulatto servant named Sophie Walton, and found himself staying up late and playing games in smoke-filled rooms. Holliday became a 'deadly' threat to his opponents due to his competitive spirit, remarkable memory, and mathematical abilities.
Despite his growing hobbies, Holliday did make an honest living. He practiced dentistry in Georgia after graduating from the Pennsylvania College of Dental Surgery in 1872. At the age of 21, Holliday began to lose a significant amount of weight, developed a persistent cough, and was diagnosed with tuberculosis in 1873. The Holliday family believed their son's sickness was somehow related to the tuberculosis that had killed his mother in 1866. Although the understanding of the sickness was poorly understood at the time, Holliday's uncle found it best to take treatment recommendations from studies conducted by the trusted Dr. George Bodington (1799-1882) and the renowned Dr. Benjamin Rush of Philadelphia. The treatment? Reside in a warm, dry climate, consume a nutritious diet with a moderate amount of wine, and prolonged rest. Holliday was told that if he remained in Georgia's hot and humid climate, he would have about 6 months to live but moving to a dryer climate could extend his life for 2 years.
Holliday decided to move to Dallas and become a dental partner with Dr. John A. Seegar. Within a year out west, he learned that gambling was much more exciting and more profitable than being a dentist. Abandoning his dental career, he descended into the notorious life of a gambler and developed a reputation as a deadly gunfighter. He got the nickname "Doc" from friends and acquaintances of the gambling saloons and will be remembered as a legend of the Wild West.
Celebrating in Griffin
The Doc Holliday Festival, held annually in Griffin, aims to celebrate both the man and the legend. The event is typically spread over a weekend and attracts residents and tourists alike. Here's a glimpse of what you can expect:
Historical Reenactments
Authentic reenactments of the Wild West days provide an immersive experience for attendees. Skilled actors dress in period attire and portray events from Holliday's life, including scenes from his days in Griffin and his later adventures in the West.
Live Music & Entertainment
Bluegrass, country, folk – expect a musical treat that resonates with the theme of the festival. Local bands and musicians set the ambiance for a day of fun and nostalgia.
Art & Craft Booths
Local artisans showcase their handmade goods. You can browse for jewelry, pottery, painting, and more. It's an excellent opportunity to pick up a unique memento or gift.
Children's Activities
The festival is family-friendly, with plenty of activities designed to entertain the younger attendees, from face painting to horse rides and even storytelling sessions.
Local Food & Drinks
No festival is complete without delicious local cuisine. Attendees can relish traditional Southern dishes, coupled with some specialty items that pay homage to the Wild West era.
Educational Talks & Tours
Learn more about the life and times of Doc Holliday through guided tours of historical sites and engaging talks by local historians.
The Doc Holliday Festival in Griffin, Georgia, is more than just a celebration of one man. It's a chance to step back in time and experience an era that had an important part to play in American history. We invite you to come experience the allure of the Wild West each year! For history buffs, those intrigued by the cowboy mystique of Doc Holliday, or anyone looking for a weekend filled with fun, music, and culture, you do not want to miss this festival.
So, dust off your cowboy boots, and head down to Griffin to celebrate a legend!