Pride of Griffin
Celebrate and Honor the Pride of Griffin
In Griffin+Spalding, we believe in heroes. Many locals have sacrificed everything for our freedoms and way of life. And that will not be forgotten.
If you are new to the area, you can take part in honoring our veterans and current service members. Take a stroll or catch a parade and help us celebrate the men and women who serve.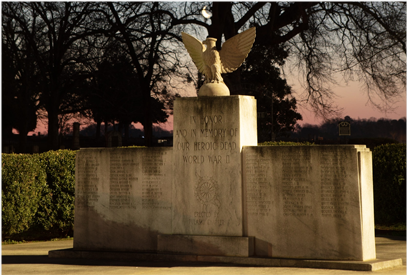 4th of July Parade
There's not much better than a small-town parade! Join us for fireworks and festivities to celebrate our freedoms and honor our past.
Oak Hill Cemetery Memorial
If you are visiting Doc Holliday's (possible) gravesite, take a short walk towards the interior of Oak Hill Cemetery to find a special military cemetery. This space is only for veterans of our town. This is the perfect place to take a breath, reflect, and say thanks.
Veteran's Memorial Park
While touring our town, take a moment to visit Veteran's Memorial Park. Located across the street from the Stonewall Confederate Cemetery, Veteran's Memorial Park honors veterans of every major war. Take a stroll around the park to view monuments for our soldiers and take in the eternal flame that burns in their honor.
Our Hometown Heroes Community Project is near and dear to our locals. This unique installation can only be found in Griffin.
While taking in our shops and restaurants, take a moment to find these bronze plaques on our downtown buildings. Each one honors a local hero who died in service to our country during a time of war.
Learn more about our heroes' lives by scanning the QR code located on each plaque. You'll be redirected to the project's website. Here you can read each hero's biography and special stories shared by friends and family.
This project brings the loss of lives home. Take some time to remember, reflect, and honor our fallen veterans with this special dedication.